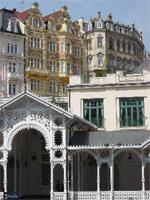 Quick navigation:
> Introduction to Karlovy Vary
> How to get there
> Where to stay
> What to see
> What to do
> Where to eat & drink
> Where to dance

World famous for its regenerative waters, Karlovy Vary is the oldest of the Bohemian spas, and probably the second most popular tourist city in the Czech Republic, after Prague. It's also the most beautiful of the 'big three' spas in the republic and, despite the crowds, the most accessible. Though you can't just pop in for a sulphurous bath or gas-inhalation therapy, you can sample the waters till your teeth float. There are 12 hot springs containing 40 chemical elements that are used to medically treat diseases of the digestive tract and metabolic disorders, so whether you have diarrhoea or constipation, this is the place to come. In spite of its purging qualities, Karlovy Vary still manages a definite Victorian air. The elegant colonnades and boulevards complement the many peaceful walks in the surrounding parks, and the picturesque river valley winds between wooded hills. The spa offers all the facilities of a medium-sized town without the bother; after hustling around Prague, this is a nice place to relax amidst charming scenery.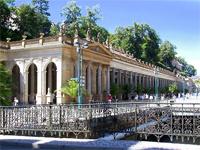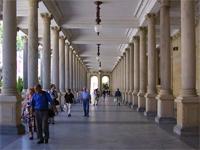 INTRODUCTION TO KARLOVY VARY
History
Karlovy Vary is the oldest and the most famoust spa town in the Czech republic. Karlovy Vary is visited not only by czech citizens, but also by tourist from all over the world. There are several legends which are conected with foundation of Karlovy Vary. It was discovered by Charles IV (1316 – 1378) while he was hunting game in local forests. As the legends says, the dog which was following up the game, fell down in a small lake with warm water. Charles IV. and his company went to see this lake, they took out the dog and they tasted the warm spring in the lake. Charles IV. called his medical men and they confirmed that the water has curative effects. Charles IV. started to drink water from this spring regularly and felt better with his ill leg. That was the reason he ordered to built houses in lake´s surroundings.
The town was founded in second half of 14. th century, but the construction boom came in the second half of 16. th century. In 17. the century, Karlovy Vary was almost destroyed by 30 years war and natural disasters. Promptly, the town recovered and it became again a prosperous city. The fact that rich nobility came here to join medical threatment was very important. One of the most famous visitors was Peter the Great.
As there were many guests in Karlovy Vary, many new buildings were constructed (Theatre, Mill Collonade, Thermal Spring Collonade)
Famous persons who visited KV
Peter the Great – Russian tzar
J.S. Bach – German composer
Marie Terezie – Austrian empress
Casanova – Italian seducer
J.W. Goethe – German writer and poet
L. van Beethoven – German composer
Paganini – Italian violin virtuoso
Adam Mickiewitz – Polish writer
Sigmund Freud – Austrian psychoanalyst
Franz Kafka – Czech writer
Alfons Mucha – Czech painter
Tolstoj – Russian poet
Gagain – Russian astronaut
Holywood stars who visited Karlovy Vary on the occasion of international cinematic festival MFF Karlovy Vary.
and many others...

HOW TO GET THERE
Bus lines
from Florenc (Prague) to Karlovy Vary with
"Student Agency"

"Autobusy Karlovy Vary"

"Asiana"
Trains
There is train from Railway station Holesovice or Prague Main Railway Station (Hlavní nádraží) to Karlovy Vary. There is some train to Karlovy Vary aprox. each two hours.
Flights
You can use Prague International Airport and then go by bus or train, or use directly Karlovy Vary airport. There are direct flights between Karlovy Vary and Prague, Moscow and St. Petersburg.
Driving Own Cars
from Prague
– aprox. 130 kms (2 hours). Drive to "Karlovarska" street and from there, continue on motorway 6 (E 48) until Karlovy Vary. Part of this motorway is for fee. Do not forget to acquire your toll sticker in first petrol station when leaving Prague! There are toll stickers valid for 1 week, 1 month and 1 year.

WHERE TO STAY

WHAT TO SEE
Springs and collonades
If you want to taste different springs, you should buy a special cup (in every gift shop, for example inside Thermal Collonnade, cost aprox. 5 EUR). Mineral water should be drunk from this cup. Do not drink a lot of water, only taste it!
Thermal Spring Collonade – where famous Spring can be found. This spring has 72 C. You can taste Thermal Spring also from another fountains, available on the Thermal Collonade (different temperatures)
Park Collonade – 3 springs can be found here.
Mill Collonade – 5 springs can be found here. The Collonade reminds ancient arquitecture.
Market Collonade – 2 springs can be found here.
Chateau Collonade – above Market Collonade. 2 springs can be found here.
Museums and galleries
ART GALLERY (Goethova stezka 6)
Offers exhibition of main works of czech painters and sculptors. Concerts are held here as well.
Opening hous: Tu – Sun, 9:30 - 12:00 and 13:00 - 17:00. Cost: depends on current exhibition. Every first Wednesdey of month, free of charge.
BECHEROVKA MUSEUM (T.G.Masaryka 57)
Museum of the most famous drink of Karlovy Vary. Exursion includes cellars, production premises and exhibition of historical articles (bottles, wraps...) Here, you can also acquire your Becherovka for lower price.
Opening hours: every day, 9:00 – 17:00. Cost: 100,- CZK/adults, 50,- CZK/children.
GLASS MUSEUM MOSER (Kpt. Jaroše 46/19)
Will introduce you history, production and exhibition of glass product, since its foundation until nowadays. There is also sale by sample shop, where you can buy glass for cost price.
Opening hours: Mon-Fri, 8:00 – 17:30. Sat, 9:00-15:00. Cost: for free
Monuments
ST. MARY MAGDALENE CHURCH
Beautiful barroque church. In the underground, there is unique funeral chapel.
ST. PETER AND PAUL ORTHODOX CHURCH
You cannot overlook it, because it markedly reminds Cremlin. It´s located between secession houses. It was built thanks to donation of rich russian patients.
DIANA WATCHTOWER
Offers beautiful view to whole city. You can get there with a funicular (out of order in January)
CHARLES IV. BELVEDERE
Very interesting bogus-gothic church, build in 18.th century. Underground, there is unique sepulchral chapel.
Cultural Events
The main cultural event in Karlovy Vary is obviously the MFF – International Cinematic Festival. It takes place every year in July and its the center is hotel Thermal (6 screens), but movies are also projected in other cinemas such as Richmond, Panasonic, Čas, Pupp or Theatre Karlovy Vary. You can enjoy as well supporting events such as concerts, exhibitions, etc.). MFF Karlovy Vary is one of the few festivals accessible to general public, not only to journalists and reviewers.
If you wish to know more about MFF Karlovy Vary, you can visit its oficial web page: http://www.kviff.com/

WHAT TO DO
Make trip to historical towns, castles, spas
Marianske Lazně - beautiful spa town, with collonnades, singing fountain, miniaturpark, orthodox church of sv. Vladimir and many others.
Loket castle – very nice village from 13. the century. You can see there national landmark: stone castle Loket. Charles IV. used to stay here when hunting in surrounding forests.
Svatošské rocks – proclaimed national landmark. Big granite rocks with unique form.
Františkovy Lázně - the smallest spa of "spa triangle", near border with Germany. Built in 1793. You can find there a lot of classicism buildings.
Cheb – one of the oldiest cities in Czech republic. Founded already in 9. century. This city has a unique arquitecture and it was declared markland. Every year, bross band festival performs here.
Sport & Relax
Golf – traditional sport in Karlovy Vary, held since 1904, when first golf course was founded. Golf courses to visit:

Golf and Racing club s.r.o. (kpt. Jaroše 29, outside Karlovy Vary, accessible by car or bus) 18 holes.
Golf Resort Karlovy Vary (Pražská 125, Olšová Vrata). 18 holes
Tennis – you can find tennis courts in several hotels such as Imperial, Gejzír and others.
Horse racing – very traditional sport in Karlovy Vary. You can learn how to ride on horseback and you can also see races and tip! Racing clubs you can find in Karlovy Vary:

Golf and racing club s.r.o. (kpt. Jaroše 29 – outside Karlovy Vary, accessible by car or bus)
Jezdecký areál Javor (Hory u Karlových Varů – outside KV, accesible by car or bus)

WHERE TO EAT & DRINK
Restaurants
Restaurant PANOPTIKUM (Bělehradská 1004/3)
Cozy restaurant, where you can eat for very reasonable price!
Restaurant U SVEJKA (Stará Louka 352/10)
Restaurant DIANA (Vrch přátelství 5/1)
Internet Cafes
Richard Ruzicka internet café (T.G.Masaryka 623/12)

WHERE TO DANCE
BARRACUDA coctail bar (Jaltská 7)
Very nice and pleasant club, with different events – carribean party with lessons of latin dance, halloween party, classic disco...and wonderful coctails! Proclaimed one of 10 best coctail bars in the Czech Republic.
INFERNO dance club (Sokolovská 700/47)
SUTERÉN dance club (Horova 1)

Mary's accommodation service is ready to arrange one day guided trips as well as longer independent stays in this charming city.
Please, contact us for more information about accommodation and programs, we can arrange for you. travel@marys.cz